Welcome to the first of many online help documentations for ChamberMade systems. This document series will help train you to use ChamberMade in the most efficient way possible, making sure that your Chamber is optimized, automated, and ready for more members!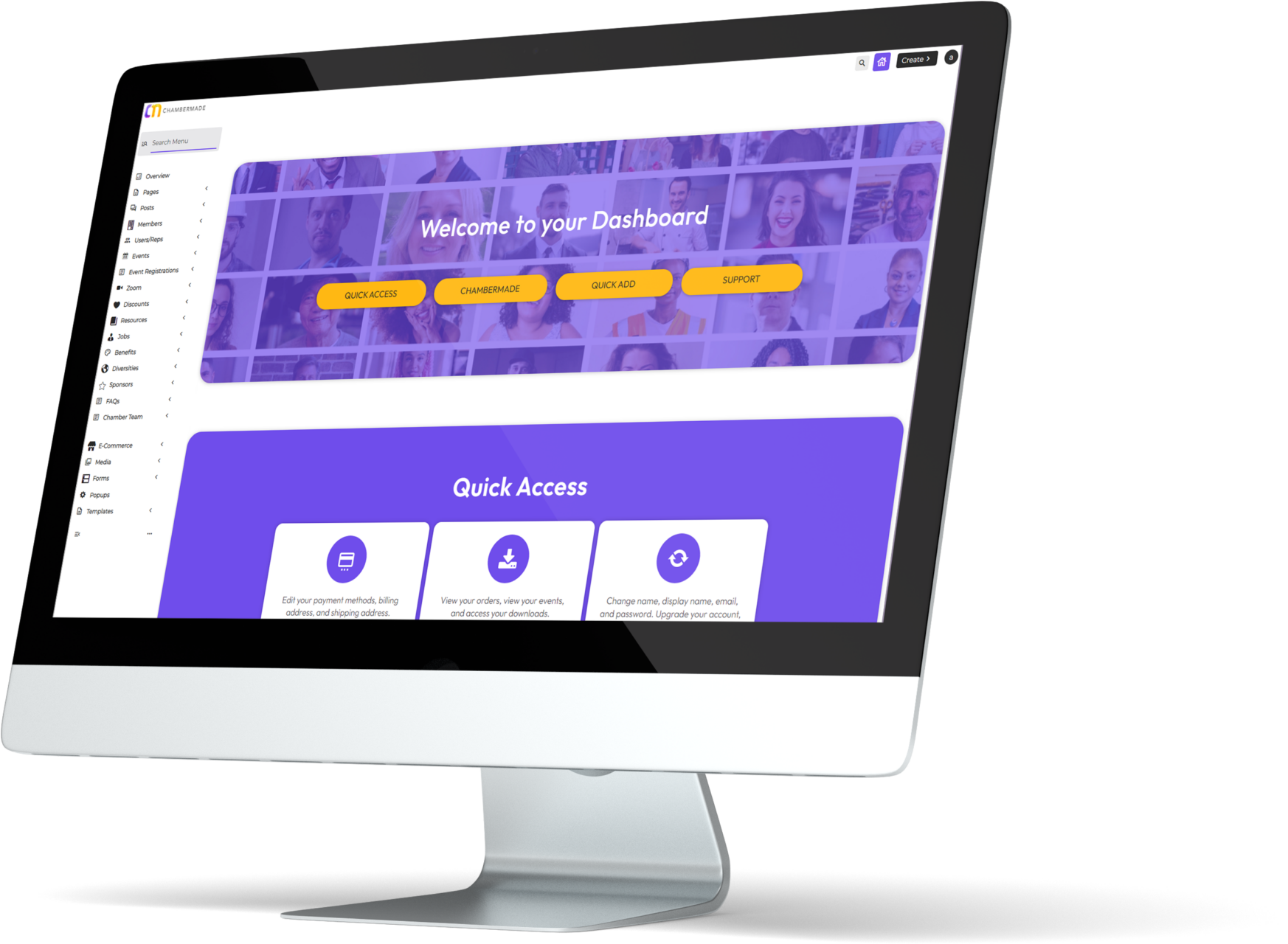 Introduction to Memberships
Automated memberships (otherwise known as subscriptions) are a huge part of ChamberMade automation, and in this article we will cover everything you need to know as far as onboarding members (both self-onboarding and manual), creating memberships, tracking automated email reminders, and configuring settings to make sure ChamberMade compliments your chamber business workflow.
How We Import Your Chamber
When you first join ChamberMade, your data is king. This is essentially your Chamber; the Members that pay you a membership fee, and their information. This, combined with pages, blogs, custom posts, integrations, and automations, makes ChamberMade your one-stop-shop for everything business management.
When we migrate your data, we export your customer data from your current source and import into ChamberMade in several steps. Your Members information is converted into Business Directory posts, showcasing your Member info around the front-end in searches, filtering, directories, and sponsored areas. Your Rep info is converted into User accounts for members to login and update their business info, sponsor events, make payments, and much more.
Lastly, your membership data (customers renewal month and amount owing) is converted into a Membership. Every single member should have an Active subscription on ChamberMade if they are a current paying member, and we trigger automated emails before, during, and after a Membership is due.
Technical breakdown of how we import:
We import data into ChamberMade and create Active Memberships for all members, for all 12 months of the year
New Orders are then created on Renewal Date automatically (you do not need to create any manual orders or trigger anything manually)
Our default set-up for email automation is; send one email 30 days before your Membership is due, to let the member know they should login and add a payment method, then send another one at 14 days, 7 days, 3 days, and then 1 day before
We highly recommend encouraging members to simply add a credit card and set your membership to auto-renew, and that's it! Your membership with automatically renew and maintain an active subscription on the due date each year
Issuing manual New Orders is not recommended unless absolutely necessary, as the subscription will automatically create a new order (invoice) to pay on the due date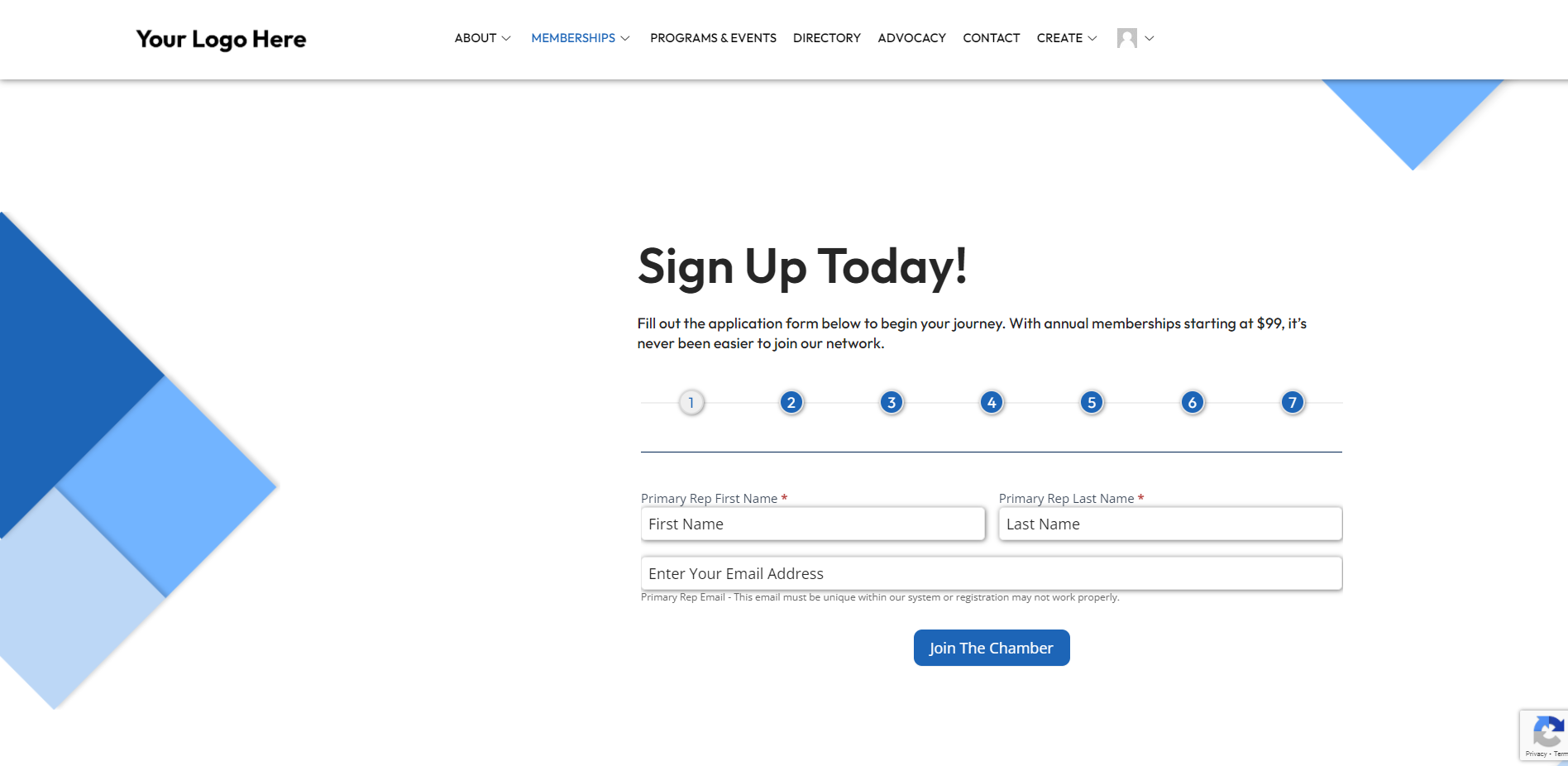 Our Recommended Funnel For Onboarding
ChamberMade is built with the intention to grow your business. Your members that currently exist are imported seamlessly into the system, and any new members are onboarded through our dynamic forms on the front-end.
Signing up automatically (by themselves):
A potential new member visits your website, they browse around, and decide to become a member
The new member fills in the entire front-end form which collects all of their information, including all business information, billing/shipping, rep info, and other configurations.
Using this information, we create your new Directory listing automatically that will feature your business online in searches, maps, filters, and many more place
We also use this information to automatically create your Primary Rep account, and connect your new online business profile with your new account
The new rep also receives an email to set their password, with a welcome message and instruction for logging in and a welcome message
The member is then redirected to the custom Thank You page, with information on how to pay for a membership
Products, tiers, taxes, fees, shipping, and free trials can be fully customized to fit your chamber
After paying for a membership, the member can choose to keep auto-renew on and you will never miss a payment ever again
Members can login and track payment history, edit payment methods, and update billing/shipping addresses directly inside their ChamberMade account
Integration with Quickbooks is last – we send your order and customer details into Quickbooks so your accounting is seamless
Assisted sign-up (Manager help):
When assisting a member sign-up, the process starts off the same – start with our front-end onboarding form built specifically for chambers (you can be logged into your account and still use the onboarding form to create new users if you are a Manager)
Fill in all the customer information, or get them to fill it in
Once everything is filled in, an email should be sent to the client that lets them know that they need to purchase a membership
Members can then either provide their credit card details over the phone or log in and add a payment method themselves under their account
Managers can then create a a new membership subscription on the back-end in ChamberMade and simply assign it to the member (make sure all products and fees are entered correctly)
Once the subscription is created on the back-end (instead of the customer creating it on the front-end), the member receives an email confirming payment
Members can then choose to log in and view payment history, turn on and off auto-renew, and much more
Next article we will be discussing:
Orders vs Subscriptions, what are the differences?
Configuring next payment date and auto-triggering orders
Understanding order and membership (subscription) statuses – Active, Pending, Cancelled and Active, Awaiting Payment, and Cancelled