ChamberMade makes it easy for your chamber to set up automatic memberships and automated email payment reminders, and with easy Quickbooks integration available by default, your chamber will never have to call another member for a payment ever again. Set up your members with Active subscriptions and a valid payment method, and you're all set! But what exactly is an order, and how does that differ from a membership or subscription?
Essentially, an order is an invoice. A "New Order" is simply a request for money from a chamber member for services such as membership fees, event tickets, sponsorship opportunities, profile upgrades, promotional spots, and many more. Event ticket invoices will generally be one-time, and paid immediately at time of invoice generation, but some other services such as membership fees can be configured to be recurring by setting up a subscription.
A subscription, otherwise known as a membership, is a recurring configuration that generates a New Order at a set time and date, usually monthly or yearly, for a set rate. All active members of your chamber should always have an Active subscription on their account.
When you join ChamberMade, we import all current Active members into your system and automation does the rest! Emails will be sent to your members before the due date to remind them to simply sign in and add a payment method, and make sure auto-renew is turned on, so that their membership can auto-renew on the due date If a payment method is not added, your members receive past due reminders after the due date, reminding them to sign in and make a payment.
Some chambers choose not to limit access to services if a member does not pay an invoice (and just continuously remind them to pay), but actions can be taken immediately if your chamber chooses. Access can be limited as soon as a payment is past due, and you can also limit visibility of member information to encourage payments.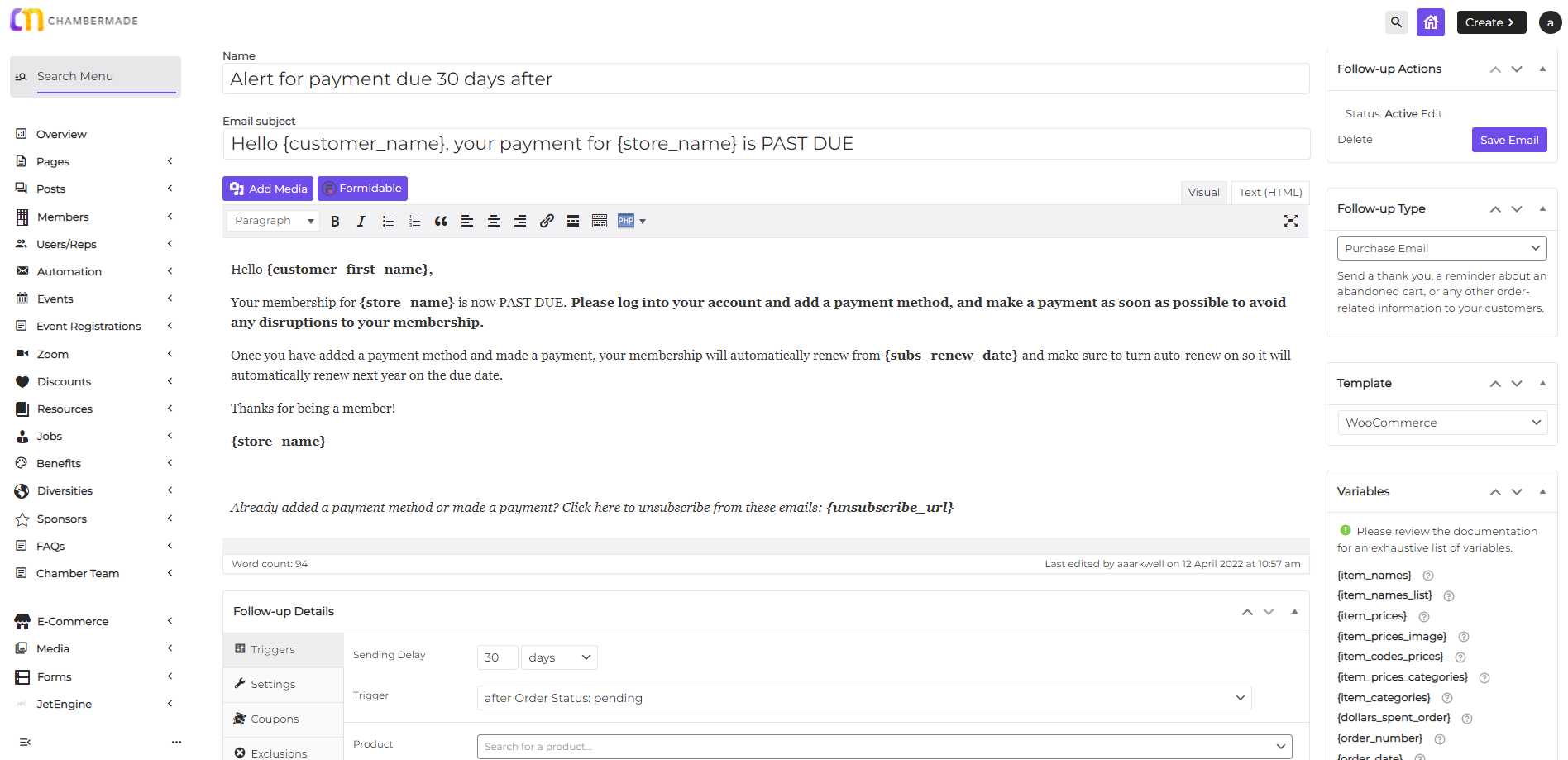 How Does Automation Work?
Email automations are a large part of what makes ChamberMade great; never lose track of an email to a member, track all opens and clicks, smart status checks before triggering, track emails scheduled, track history, and create custom templates with dynamic content to increase onboarding and member retention.
ChamberMade comes pre-loaded with emails triggered for before a Subscription is due encouraging members to log in and add a payment method, and for after a payment is due to remind members to log in and make a payment.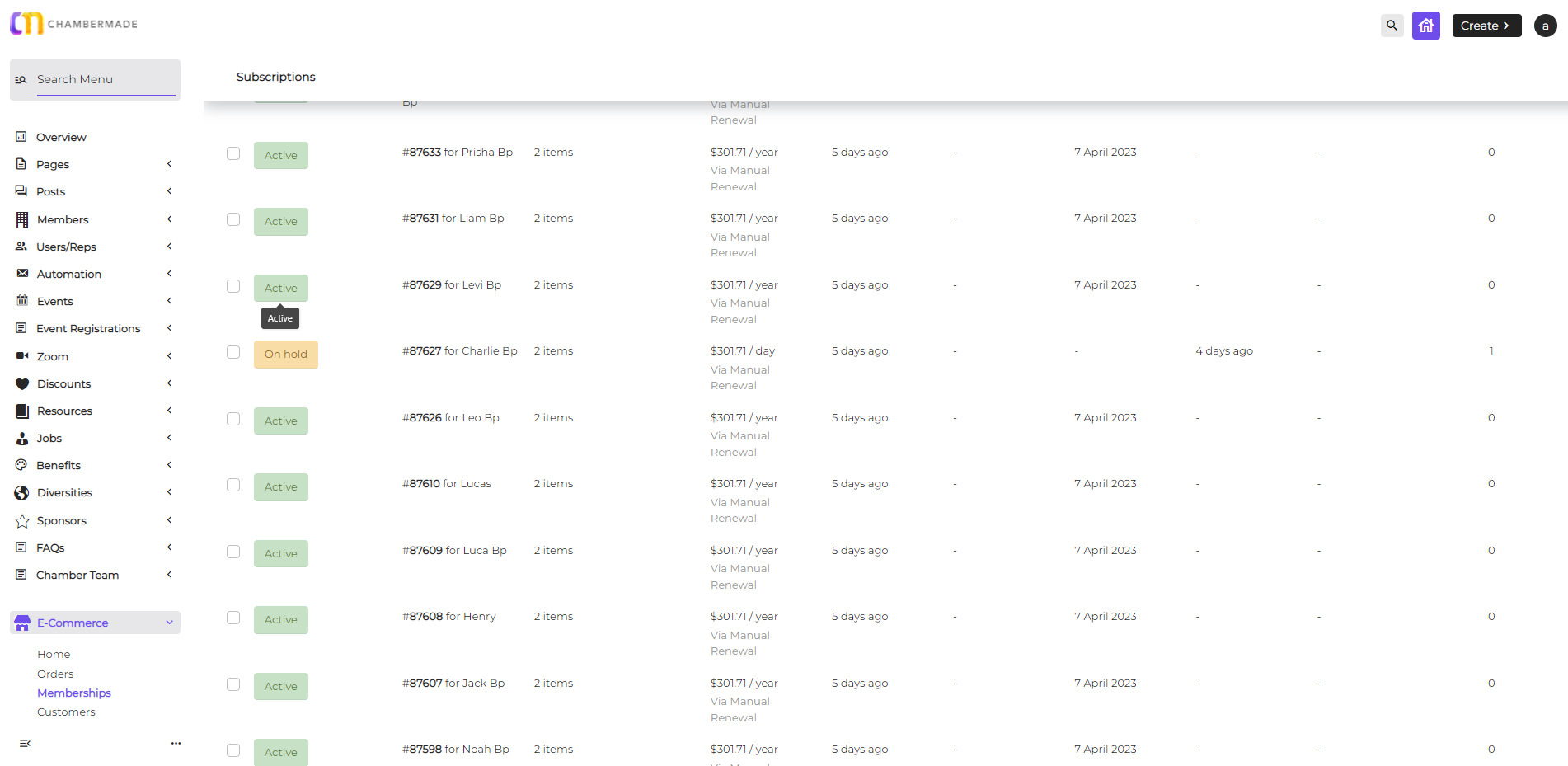 Understanding Membership Statuses
When we first import your memberships into ChamberMade, we set all statuses to Active. This ensures that a New Order is triggered on the respective due date. Before the due date, a member will receive email reminders to log in and add a payment method. If they do not add one by the due date, their membership status will be set to Awaiting Payment, and 'past due' emails will then be sent to the member, encouraging them to complete payment.
Awaiting Payment status can mean a member cannot access certain areas of your system if you choose to restrict your members. Action can also be taken after a certain number of days, and email reminders will be sent to encourage payment.
If a membership is Cancelled (either by the member or automatically because of non-payment), a members access will be limited and their business will no longer show under searches, maps, filters, suggestions, sponsorships, and other areas around the web. If a member wants to re-join, we advise you simply create a new subscription with brand new terms and pricing.
Understanding Order Statuses
When a New Order (or invoice) is created automatically from a Subscription on the due date, it immediately tries to collect payment with the method on file. A New Order starts with a status immediately of Pending payment, and if the payment method is set to automatic, it will charge the member and change the status to Processing. This payment is then confirmed by the selected payment gateway, and then automatically marked as Completed.
If an Order is past due, the status will stay at Pending payment until a payment is made. An order status of Pending payment will automatically change the connected Subscription to Awaiting Payment until a payment is made. If a member decides not to pay, they can cancel the order and it will be marked with a status of Cancelled.
Once a payment is made, the connected subscription will be automatically set to Active and the order status will be set to Complete. Each active member should have one Active subscription under that business, and one Completed order per pay period (whether monthly or yearly).
Managing your memberships, your day to day
Adding new memberships, optimizing workflow
Refunding orders, cancelled subscriptions
Intro into connecting with Quickbooks