Use this resource center to find the necessities that you need.
[ivory-search id="4764" title="Default Search Form"]

1. Log into your ChamberMade account by clicking on the navigation bar drop-down menu, and click on log in. You'll be taken to the login page where you can enter your username and password.
2. Administrators will be taken directly to your dashboard, while members will be taken back to the chamber homepage. Members can use the navigation bar drop down to select ChamberMade to be brought to their dashboard.
3. Scroll down until you see Products in the left-hand column. Click the < arrow next to it to view more options.
4. Click Add New. You will be brought to the Add new product page.
5. What is the name of your product? Fill out the Product name title field.
6. Scroll down until you find the Product data section.

7. Choose the type of product you wish to add, whether it be a physical product, a group of products, affiliate product, or even an event ticket (note, creating an event and associated ticket will automatically add ticket information to your chamber's product section) through the product data drop down menu.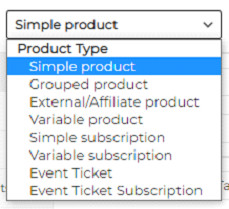 8. If your product is virtual, in that nothing needs to be shipped to the buyer, indicate as such with the virtual check box at the top of the product data section.
9. If your product can be downloaded after purchase, indicate this with the downloadable check box next to the virtual box.
10. Ensure the general tab on the left of the product data section is highlighted, and provide the regular price of your product in the Regular price ($) field.

11. If you wish to also offer your product at a discounted price, you can indicate the sale price in the Sale price ($) field. You can also click on schedule to the right of the Sale price ($) field to specify the dates your product will be on sale.
12. Indicate whether your product is taxable or not with the Tax status drop-down menu, and make sure to consider any taxes on shipping cost when determining this.
13. Indicate what the tax status is of your product, be it standard, reduced, or at a zero rate, through the Tax class drop-down menu.
14. On the left column of the Product data section, highlight the inventory tab.
15. Here, you can provide a stock-keeping unit, or SKU in the SKU text field.
16. You can enable further stock management options by selecting the Manage stock check box. If you do, you will be presented with three additional options.

a. Stock quantity allows you to set the amount of product you have in stock. This will decrease automatically as new orders are placed.
b. The allow backorders drop-down menu can allow your customers to purchase your product even if there is no available stock. The menu contains three options.
i. Do not allow: Your customers will not be able to place an order if your stock quantity hits zero.
ii. Allow, but notify customer: your customer will be notified that the product in question is not currently available, but will be.
iii. Allow: this allows your customer to purchase your product even if your stock is at zero, while the customer will not be notified of this.
c. The Low stock threshold field allows you be notified automatically when your stock quantity reaches a certain amount.
17. If you do not enable the Manage stock check box as outlined in step 16, you will have the ability to indicate your level of stock through the Stock status drop-down menu. You can choose from: in stock, out of stock, and on backorder depending on the status of your inventory. This will appear on the front end of your chamber's website.
18. You can also choose to restrict your customers to buying just one item at a time by selecting the Sold individually check box. This is independent of your chose to manage stock.
19. If you did not select virtual or downloadable (as discussed in steps 8 and 9), select Shipping from the left-hand column of the Product data section.
20. Indicate the weight of your product in the Weight text field. You can include decimal places if necessary.
21. Provide the dimensions of your product in the Dimensions fields. You will need to provide the length, width, and height.
22. Indicate the shipping class your product will be shipped via, through the Shipping class drop-down menu.
23. Click the Linked products tab in the left column of the Product data section. Here, you can link to similar products already within your product listings.
24. You can link to a product you'd like to upsell in the Upsells section by typing the first letters of the product in question and selecting from the results. An upsell product will be suggested to the customer instead of the product they're currently viewing.

25. You can also highlight items you would like to cross-sell in the cross-sells field. These are products that will be promoted based on what is already in your customer's cart.
26. If you choose, you can add additional product attributes through the Attributes tab on the left column of the Product data section.
27. If you wish to add a custom attribute to your product, choose custom product attribute from the drop-down menu and click add.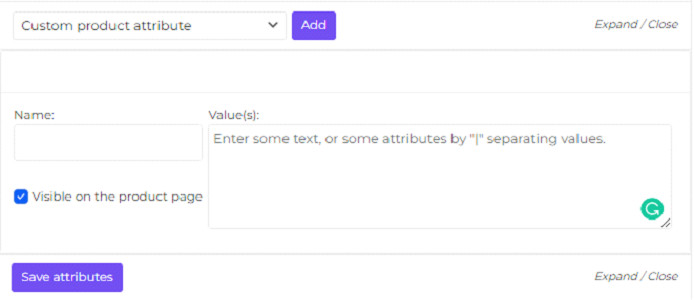 28. You will be able to add a name and custom text in the fields that appear. This will be visible in your product's listing.
29. Click Save attributes when finished.
30. If your product is one sold via
31. The Advanced tab in the Product data section allows you to customize a message customers would receive when purchasing this product through the Purchase note field. It also allows you to prioritize the order in which your product would appear in relation to others in the menu order field
32. You are done with the product data section. Scroll to the Product short description section. By default, it will be found directly below product data.
33. Here, you can provide a brief description of the product being sold. This can include images and links to external websites. Many of the functionalities in this section mirror those of a standard word processor, while you can also choose to edit your description in HTML through the Text (HTML) tab on the top right of the section.
34. You can create a gallery of product images through the Product gallery section found in the right-hand column of your window. Click Add product gallery images to open up the Media library.

35. You can choose from images that have been previously uploaded through the Media Library tab. You can also upload new images through the Upload Files tab.

36. Whether you upload new images or choose from available ones, you can select multiple images by holding down the Ctrl button on your keyboard.

37. Once you have the appropriate images selected, click the Add to gallery button in the bottom right.
38. You will return to your product creation page. From here, locate the Product visibility section. By default, it is directly above the Product gallery section.
39. Here, you can choose who can see your product when visiting your chamber's website. In the Visible field, you can choose whether your product can be seen by guests, subscribers, customers, or a variation of all three.
40. Inversely, you can choose who cannot see your product by highlighting that group in the Invisible field. Note: you can only choose from the visible or invisible fields, not both.
41. Scroll to the Product image section, which is located above Product visibility by default. Here, you can upload a feature image of your product through the Set product image button. It operates the same way as your gallery as demonstrated in steps 34-37. However, you can only select one image instead of several.
42. Once you have chosen your feature image, either through the Media Library or the Upload Files option, click Set product image to return to your product creation page.
43. How would you categorize your product? Choose from the options in the Product categories section, or create your own by selecting +Add new category.
44. Finally, locate the Publish section. Here, you can save your product as a draft through the Save Draft button, see how your product will look on your chamber's website through the Preview button, or publish it outright with the Publish button. Note: administrators can publish products immediately, while members will have to submit their content for review by an administrator first.
All done!